TREASURES FROM KNOKKE
EXPRMNTL 1963 :
Japanese experimental cinema revival
In 1949 ziet in de kleine badplaats Knokke een van de meest ambitieuze festivals voor experimentele film en de avant-garde het daglicht: EXPRMNTL, een initiatief van het Koninklijk Belgisch Filmarchief en zijn conservator Jacques Ledoux dat werd herhaald in 1958, 1963, 1967 en 1974, het jaar van de laatste editie van het festival.Tijdens deze vijf edities heeft het Koninklijk Belgisch Filmarchief veel kopieën van films uit de verschillende programma's verworven. Deze kopieën, waarvan sommige uniek zijn en de meeste zeldzaam, worden zorgvuldig bewaard in de depots van het filmarchief en verlaten ze zelden.
Het Âge d'Or-festval, dat een bescheiden maar even ambitieuze echo wil zijn van het mythische evenement dat EXPRMNTL was, leek ons de ideale plek om nieuw leven te geven aan deze films waarvan er sommige enigszins in de vergetelheid zijn geraakt.
Daarom zal het Koninklijk Belgisch Filmarchief de films die de verschillende edities van het festival in Knokke hebben gemarkeerd digitaal restaureren. Deze films zullen in optimale omstandigheden worden voorgesteld op de komende edities van het Âge d'Or-festival.
Un des festivals les plus ambitieux en matière de cinéma expérimental et d'avant-garde vit le jour en 1949 dans la petite cité balnéaire belge de Knokke. EXPRMNTL, une initiative de la Cinémathèque royale de Belgique et de son conservateur Jacques Ledoux, se répétera en 1958, 1963, 1967 et 1974.
Au cours de ces cinq éditions, la Cinémathèque royale de Belgique a fait l'acquisition de nombreuses copies de films montrés dans les différents  programmes. Ces copies, uniques pour certaines, rares pour la plupart, ont été soigneusement conservées dans les dépôts de la Cinémathèque dont elles ne sont que rarement sorties.
L'Âge d'Or Festival, qui se veut l'écho humble mais tout aussi ambitieux du mythique EXPRMNTL, nous a semblé le lieu idéal pour redonner vie à ces films, pour certains quelque peu tombés dans l'oubli.
C'est pourquoi le Cinémathèque royale de Belgique compte réaliser des restaurations numériques des films qui ont marqué les différentes éditions du festival de Knokke, et vous les présenter dans des conditions optimales au cours des éditions à venir de L'Âge d'Or Festival.
In 1949, in the small seaside town of Knokke, on the initiative of the Royal Belgian Film Archive and it's director Jacques Ledoux, one of the most ambitious festivals of experimental film and avant-garde is born: EXPRMNTL, which was repeated in 1958, 1963, 1967 and 1974, the date of the last edition of the festival.
During these five editions, the Royal Belgian Film archive acquired many prints of films shown in the different programmes. These prints, some of which are unique and rare, have been carefully preserved in the depots of the film archive, that they rarely leave.
The Âge d'Or-festival, which wants to be a humble but equally ambitious echo of the mythical event that EXPRMNTL was, seemed to us the ideal place to give new life to these films of which some have somewhat fallen into oblivion.
That is why the Royal Belgian Film Archive intends to make digital restorations of the films that have marked the different editions of the Knokke festival, and present them in optimal conditions during the upcoming editions of the Âge d'Or festival.
---
Mon-Yo:
Ornamental Motifs from Japan 
NAOYA YOSHIDA, JAPAN 1962
b&w, 23', DCP, v : NO DIALOGUE
War Games
DONALD RICHIE, JAPAN 1962
b&w, 22', DCP, v : NO DIALOGUE
The Sand 
YOICHI TAKABAYASHI, JAPAN 1963
b&w, 26', DCP, v : NO DIALOGUE
ONAN 
TAKAHIKO IIMURA, JAPAN 1963
b&w, 7', DCP, v : NO DIALOGUE
An Eater 
KAZUTOMO FUJINO & NOBUHIKO OBAYASHI, JAPAN 1963
b&w, 24', DCP, v : NO DIALOGUE
Tijdens de EXPRMNTL festivaleditie van 1963 van kwamen zeven van de 107 geselecteerde films uit Japan en ze maakten een sterke indruk. Ze waren het levende bewijs dat de Japanse experimentele film een nieuwe opleving kende na het verval in het begin van de Tweede Wereldoorlog.
Op initiatief van Hans de Wolf, professor aan de VUB (Vrije Universiteit Brussel), zijn vijf van deze films digitaal gerestaureerd door het Koninklijk Belgisch Filmarchief.
Lors de l'édition 1963 du festival EXPRMNTL, sept des 107 films sélectionnés provenaient du Japon et ont fait forte impression, démontrant que le cinéma expérimental japonais connaissait un nouvel essor, après son déclin au début de la Seconde Guerre mondiale.
À l'initiative de Hans de Wolf, professeur à la VUB (Vrije Universiteit Brussel), cinq de ces films ont fait l'objet d'une restauration numérique par la Cinémathèque royale de Belgique.
During the 1963 edition of the EXPRMNTL festival, seven of the 107 films selected came from Japan and they made a strong impression, demonstrating that Japanese experimental cinema was experiencing a revival following its decline at the beginning of the Second World War.
At the initiative of Hans de Wolf, professor at the VUB (Vrije Universiteit Brussel), five of these films have been digitally restored by Belgian royal film archive.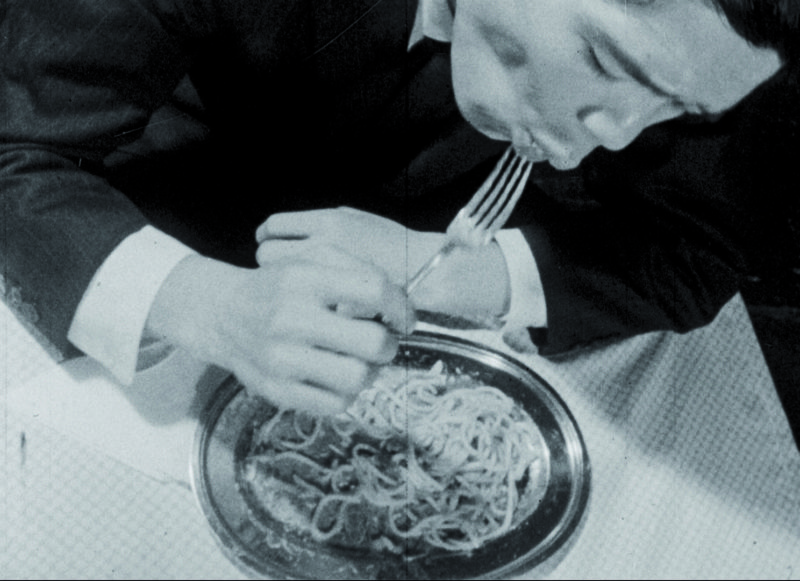 ---
Related:
Âge d'Or Festival 2017
/
EXPRMNTL
/
Japan
/
Knokke